The world's largest radiology forum runs from Nov. 28 to Dec. 2
CHICAGO, Ill. — By Kim Yun-mi/Korea Biomedical correspondent – The Radiological Society of North America (RSNA) kicked off their 107th Scientific Assembly and Annual Meeting (RSNA 2021) in Chicago, Ill, the U.S., on Sunday.
Korean companies also exhibited their AI-based technologies at the world's largest radiology conference, where over 500 exhibitors participated.
RSNA is the world's largest academic society consisting of over 48,200 members in 145 countries. The group has held the event every year since the inauguration of the annual meeting in 1985.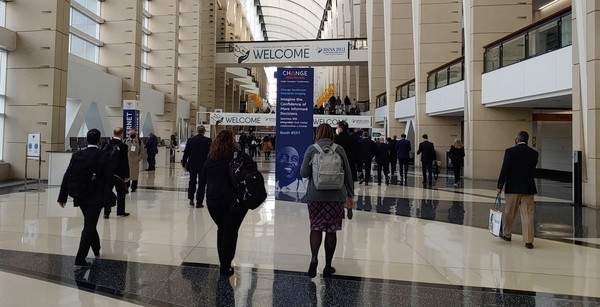 Participants enter the Radiological Society of North America's 107th Scientific Assembly and Annual Meeting (RSNA 2021) in Chicago, Ill, the U.S., on Sunday.
This year, the event is joined by about 50,000 participants, including 27,000 healthcare professionals worldwide, at McCormick Place Convention Center in Chicago from Sunday to Thursday this week.
At RSNA 2021, researchers will release outcomes of over 3,600 studies that presented the latest advances in radiology related to diagnosis, intervention, and treatment, and imaging technologies.
At this year's forum, researchers will showcase radiology innovations using AI-backed research and technologies.
Also, approximately 850 papers will be announced in 18 sub-specialties, including breast, heart, chest, digestive, genitourinary, head and neck, musculoskeletal, nervous, vascular imaging, nuclear medicine/molecular imaging, radiation oncology, pediatrics, physics, informatics, interventions, and multiple systems.
There will be over 1,300 poster presentations, 300 training courses, and seven plenary sessions.
To participate in RSNA 2021 Technical Exhibits, the forum's highlight, around 500 exhibitors filled the 27,438-square-meter exhibition hall.
At AI Showcase Zone, about 90 companies, including many Korean firms, promoted their AI-using medical imaging technologies.
Korean participants include VUNO, a developer of AI medical solutions using medical images, pathology, and biosignals; Lunit, working on image biomarkers for cancer treatment based on medical imaging data; and Medical IP, the first venture company spun off from the Seoul National University Hospital.
Other Korean firms showcasing AI Showcase Zone include AIRS Medical, Neurophet, ClariPi, and SoyNet.
These companies will hold booth exhibitions and share information about their cutting-edge technologies and product rollouts at AI Theater, which will be held from Sunday to Thursday.
"I heard that over 30 companies were Korean among about 90 participants of AI Showcase," an official at VUNO who participated in the event said. "It is encouraging to see Korean companies actively participate in the AI field, which is drawing the most attention at the Technical Exhibits."