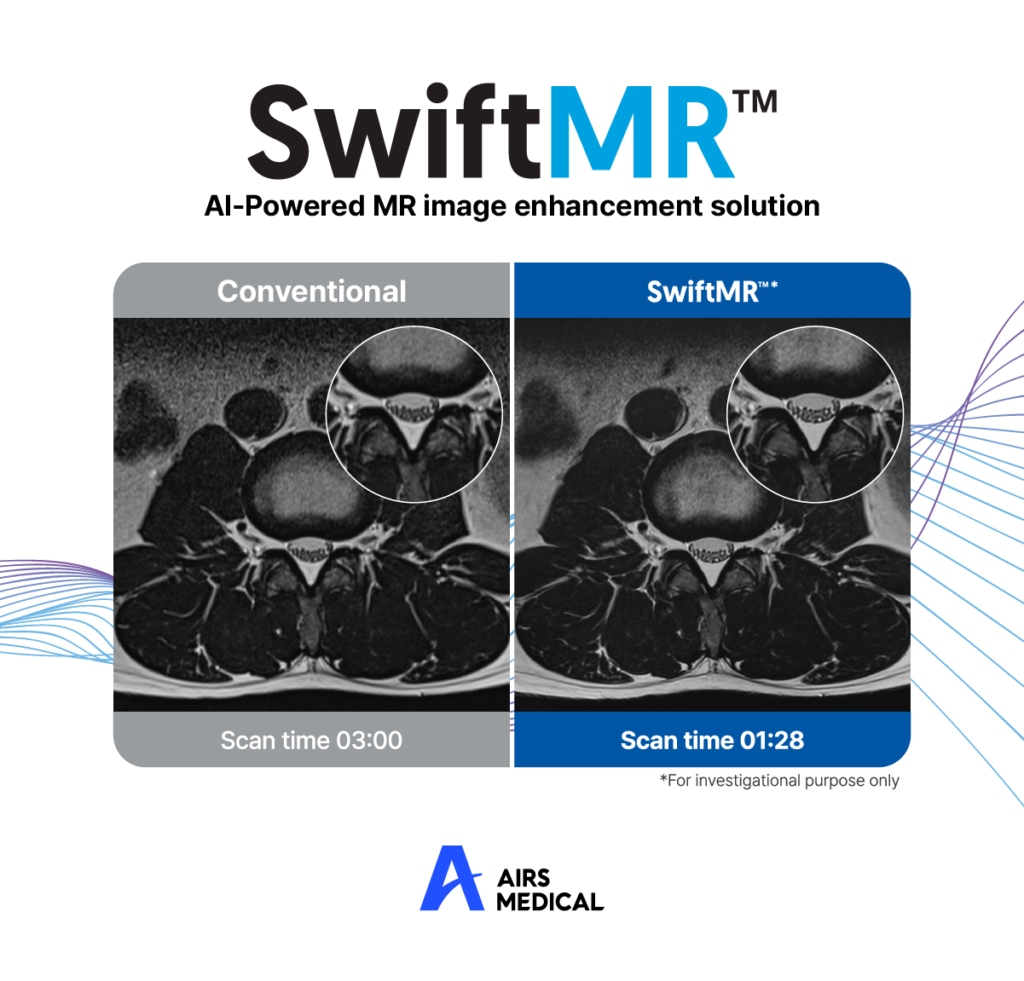 [AIRS Press room, October 20, 2023] On October 13th, AIRS Medical has announced gained approval from Japan's Pharmaceuticals and Medical Devices Agency (PMDA) for their AI-powered MRI image reconstruction solution, 'SwiftMR™'. With this achievement, AIRS Medical has secured medical device sales authorization for SwiftMR™ in 14 countries, including the United States, Japan, Singapore, Australia, and Brazil.
SwiftMR™ is an AI-powered MRI reconstruction solution that enhances the quality of MRI images through fine-tuned deep learning technology. MRI scans often take 30 minutes to over an hour, depending on the body parts to be scanned and the purpose. However, with SwiftMR™, scan times can be reduced by up to 50% while enhancing the image quality. One of the advantages of SwiftMR™ is that it allows to improve productivity of MRI without the need for additional scanners purchases or upgrade existing MRI.
AIRS Medical has been aggressively focusing on global market expansion since its U.S. FDA 510(k) cleared in 2021. To expedite global market entry, AIRS Medical achieved MDSAP(Medical Device Single Audit Program encompassing five different countries including Japan.) certification in August and also achieved another milestone by becoming the first company in the medical AI industry to receive all three international standard information security certifications (ISO/IEC 27001, 27017, 27018). As a result, since its official product release in 2021, SwiftMR™ has expanded into 14 countries and accumulated over 900,000+ processed exams in over 250 institutions. The recent PMDA certification in Japan is expected to further accelerate global expansion.
Hyesung Lee, CEO of AIRS Medical, stated, "Starting with attending in Japan's largest medical device expo, MEDICAL JAPAN TOKYO, on October 11th, we are accelerating our expansion into the Japanese market." He added, "Particularly, Japan holds strategic importance as a target market, due to its expansive market size and the diversity of MRI scanners. We have strong confidence in SwiftMR's potential for success in the Japanese market, driven by its vendor-neutral attributes and the convenience of installation."
About AIRS Medical Inc.
AIRS Medical is a leading healthcare AI company that envisions patient-friendly healthcare by transforming the inefficiencies in the medical industry through innovative technology, enabling more people to access healthcare when needed. The company was awarded <2023 North American Technology Innovation Leadership Award> by Frost & Sullivan in 2023 and named one of <96 AI Companies building the next generation of radiology tech> by CB Insights. AIRS Medical offers SwiftMR, an AI-Powered MRI Reconstruction solution. They are also working on an AI-Powered Venipuncture automation solution to be released soon.
Published by : Marketing team of AIRS Medical([email protected])