Recently achieved MDSAP certification and ISO/IEC 27001, 27017, 27018 certifications, paving the way for accelerated expansion into global markets.

Certified 

Japan's

 Pharmaceuticals and Medical Devices Agency (PMDA), signaling the beginning of its full-scale expansion into the Japanese market.

Attending at RSNA 2023 as an AI showcase sponsor, showcasing clinical achievements with two AI Theater Presentations and two accepted abstracts.
SEOUL, South Korea, Oct. 30, 2023 /PRNewswire/ — AIRS Medical has shown remarkable growth in global market expansion. The company received MDSAP (Medical Device Single Audit Program) certification, followed by achieving three ISO certifications related to information security in September. Also, AIRS Medical gained approval from Japan's Pharmaceuticals and Medical Devices Agency (PMDA) on October 13th. These achievements have accelerated global expansion, including the Japanese market. AIRS Medical will showcase SwiftMR™, an AI-powered MRI enhancement solution at RSNA2023, the largest radiological conference in North America on November 24~29th.
SwiftMR™ is an AI-powered MRI reconstruction solution that enhances the quality of MRI images through fine-tuned deep learning technology. It is capable of reducing MRI scan times by up to 50% while enhancing the image quality. Since its official launch in 2021, SwiftMR™ has been installed in over 250 institutions in global markets, including the United States. Recently, it has accumulated over 900,000+ processed exams in less than a year compared to last year – where only 300,000+ exams were processed up until Nov 2022. This remarkable threefold increase shows how SwiftMR™ is effective all over the world.
AIRS Medical attributes its exceptional growth to a result of aggressive global expansion. By targeting the global market from the beginning of product development, the company was able to clear US FDA 510(k) within only three months of launch. Subsequently, the company achieved approvals in various countries including Asia-Pacific, Brazil, and the UAE. AIRS Medical achieved MDSAP(Medical Device Single Audit Program encompassing five different countries including Japan.) certification in August and also achieved another milestone by becoming the first company in the medical AI industry to receive all three international standard information security certifications (ISO/IEC 27001, 27017, 27018). AIRS Medical accelerates international expansion with the recent certification of Japan's Pharmaceuticals and Medical Devices Agency (PMDA) on October 13th.
"Japan holds strategic importance as a target market, due to its expansive market size and the diversity of MRI scanners. We have strong confidence in SwiftMR's potential for success in the Japanese market, driven by its vendor-neutral attributes and the convenience of installation." said Hyeseong Lee, CEO of AIRS Medical. "Following Japan market, we will accelerate global expansion with the aim of entering the European market by the end of the year."
AIRS Medical will be attending RSNA2023 as an AI Showcase sponsor, the largest radiology conference in North America which will be held on November 24. At RSNA 2023, the company will present two AI Theater Presentations and two research abstracts, showcasing domestic and international clinical research outcomes and success cases of SwiftMR™. To get a sneak peek of RSNA 2023.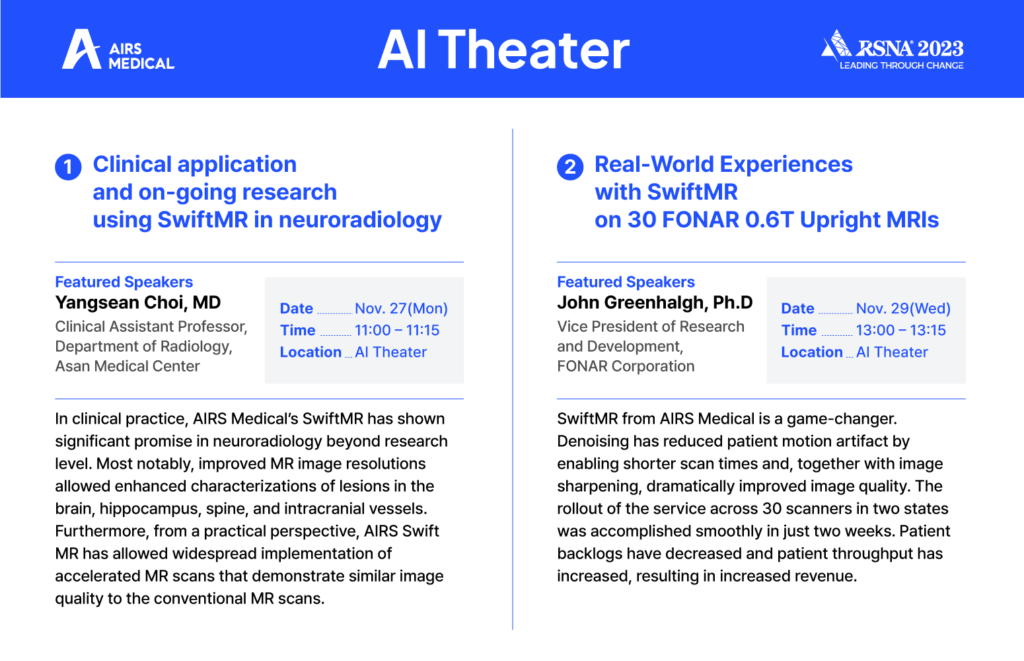 Kevin Yang, Head of AIRS Medical's U.S. branch and Clinical Research team said, "We are delighted to present clinical research collaboration outcomes and success stories of SwiftMR™ which supports our technological excellence at the RSNA. Our team's grand aim is to make SwiftMR™ a universal standard in all MRI scanners."
About AIRS Medical Inc.
AIRS Medical is a leading healthcare AI company that envisions patient-friendly healthcare by transforming the inefficiencies in the medical industry through innovative technology, enabling more people to access healthcare when needed. The company was awarded "2023 North American Technology Innovation Leadership Award" by Frost & Sullivan in 2023 and named one of "96 AI Companies building the next generation of radiology tech" by CB Insights. AIRS Medical offers SwiftMR, an AI-Powered MRI Reconstruction solution. They are also working on an AI-Powered Venipuncture automation solution to be released soon. Visit airsmed.com to learn more.
Published by : PRNewswire (SOURCE AIRS Medical Inc.)