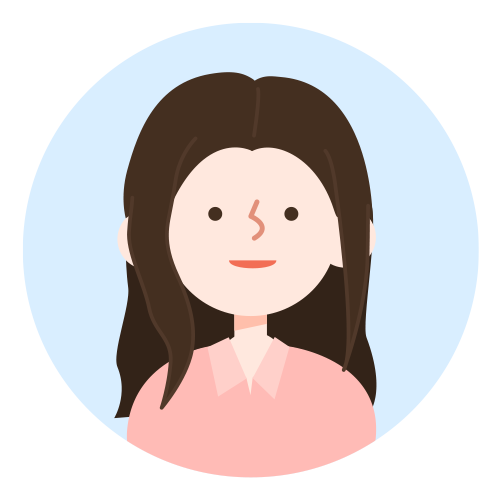 Written by Jihyeon Seo
Head of Regulatory Affairs in AIRS Medical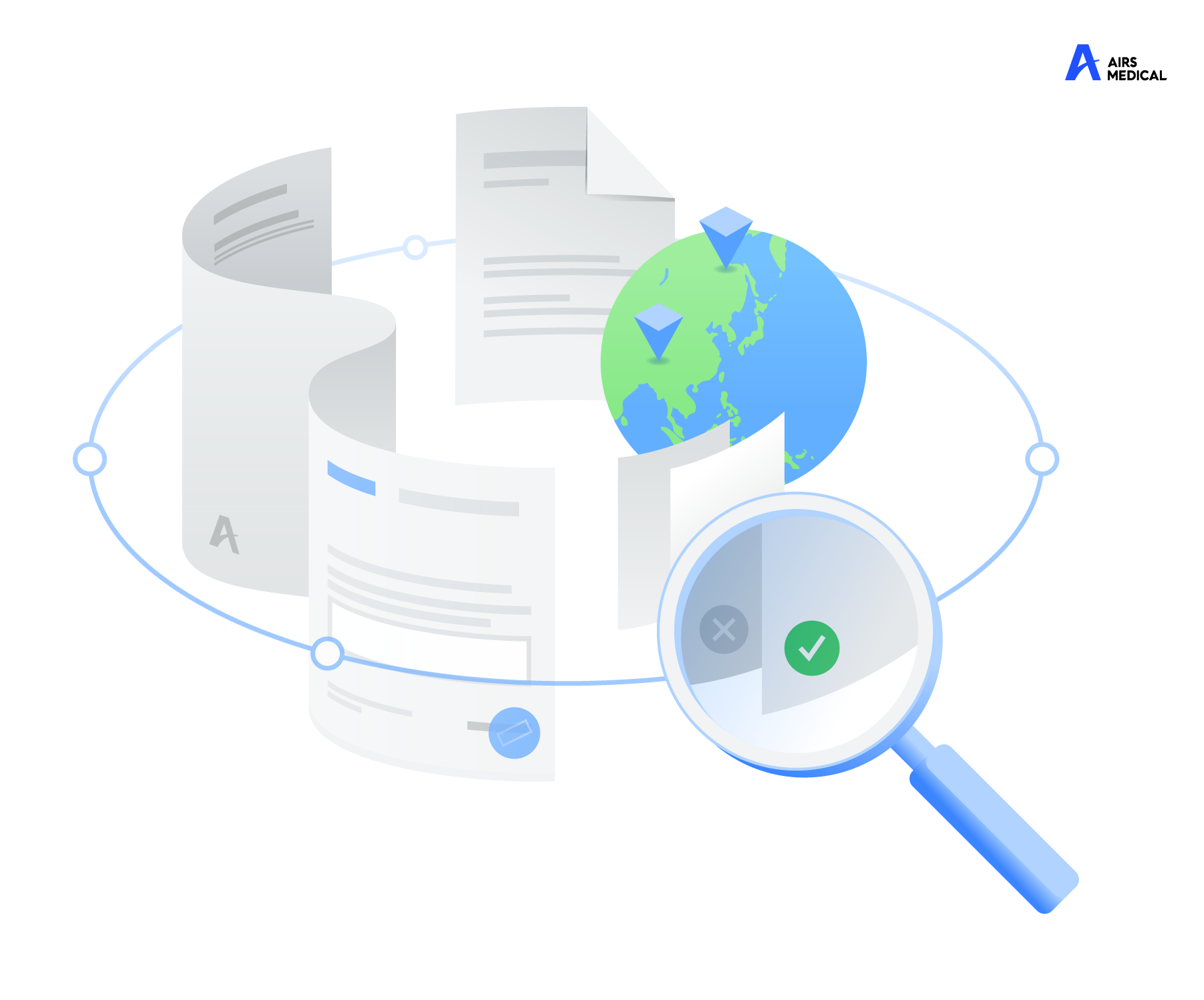 SwiftMR is a standalone software that utilizes deep learning technology to enhance the quality of MR images captured in DICOM format. Due to its intended use, it is classified as a medical device. Currently, SwiftMR has been registered in 11 countries worldwide, including the US FDA and Brazil's ANVISA, which were obtained by demonstrating its safety and effectiveness. AIRS initiated the design and development of this product in 2020, and in February 2021, it was notified to the Ministry of Food and Drug Safety in Korea as a Medical image, picture archiving and communication system, software, class 1.
Subsequently, in October 2021, SwiftMR proudly received initial 510(k) clearance from the US FDA, considered one of the most reputable certifications for medical devices globally. It is worth noting that approximately 75% of 510(k) applications, which fall under Class II, are typically rejected. Therefore, SwiftMR's successful clearance reflects its exceptional quality.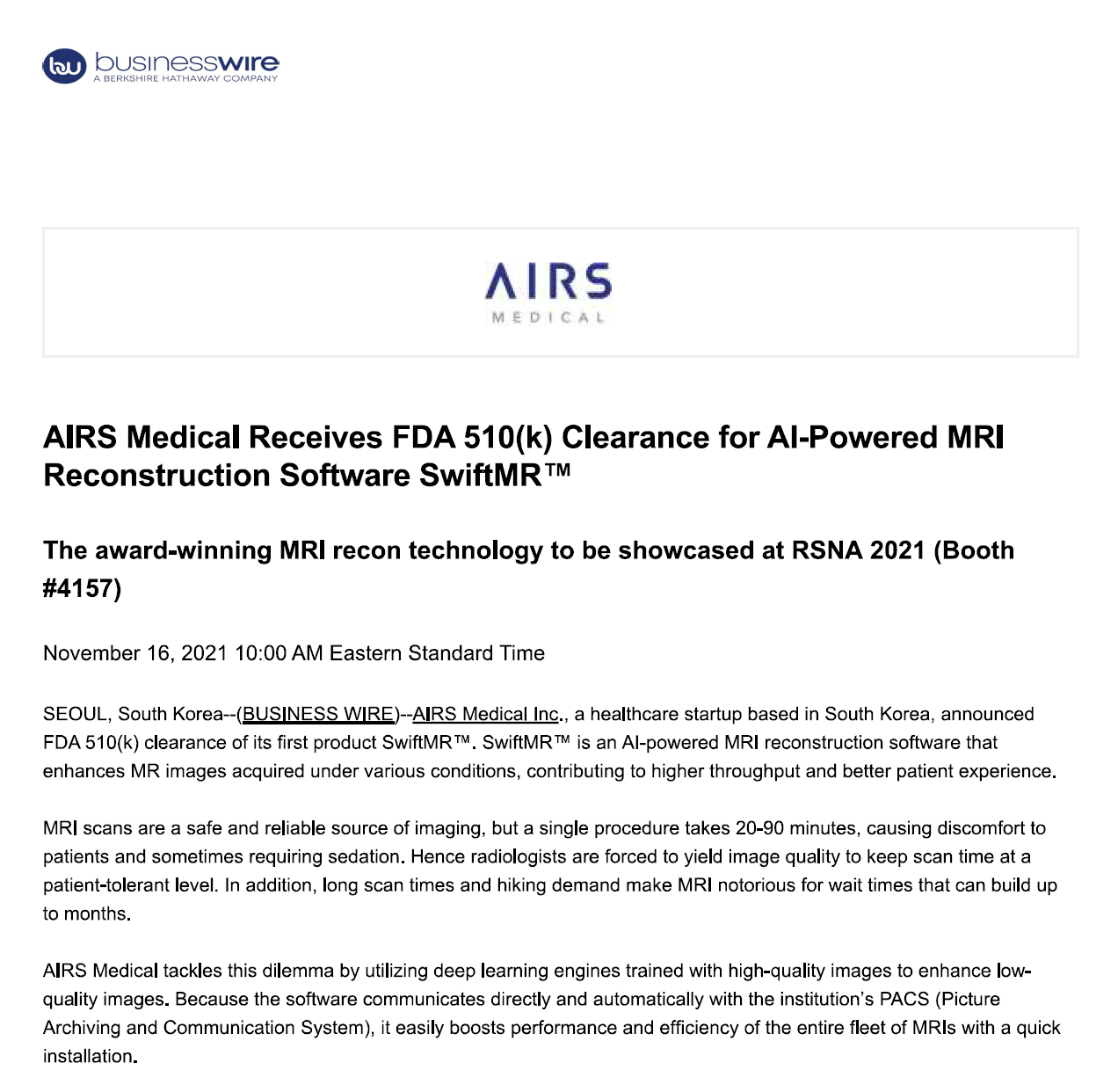 <Original source from the Business Wire>
In the latter half of 2021, preparations commenced for obtaining CE Marking under the new EU Medical Devices Regulations (MDR). The medical device industry globally is facing increased challenges due to the more stringent clinical evidence and Post Market Surveillance (PMS) requirements under the MDR compared to the previous EU Medical Device Directives (MDD).
As of April 2022, in accordance with the European Medical Device Coordination Group's (MDCG) position paper MDCG 2022-11, over 90% of certificates issued under MDD/AIMDD are set to expire in 2023-2024. Furthermore, there are only 30 designated certification bodies (Notified Bodies (NBs) globally for conducting assessments under the MDR. Consequently, these NBs have prioritized reviewing existing customers transitioning from MDD/AIMDD to MDR, which has resulted in delays for companies like AIRS Medical, who seek initial CE marking under the MDR. Furthermore, as of December 2021, around 37% of MDR applications received were rejected due to incompleteness, with as many as half of the applications received considered incomplete as of April 2022.
However, AIRS' Regulatory Affairs (RA) team and Quality Assurance (QA) team proactively analyzed the European MDR requirements in early 2021, incorporating them into technical documentation and the company's Quality Management System (QMS). The MDR audit has taken place throughout 2022-2023, and as of June 2023, AIRS is awaiting the results from the NB's headquarters, which represents the final stage before acquiring CE Marking. The company anticipates obtaining CE Marking under the MDR within this year, 2023.

Additionally, starting from the second half of 2022, AIRS has accelerated its global expansion efforts, reaching countries such as Vietnam, Indonesia, Hong Kong, Malaysia, the Philippines, and Singapore in the APAC region, as well as Brazil in the LATAM region, and Saudi Arabia and the United Arab Emirates in the Middle East. Currently, ongoing expansion initiatives include Japan, China, Thailand, Taiwan, Switzerland, Mexico, Australia, Morocco, and Egypt. In addition, we will also prepare countries such as New Zealand, Israel, Canada, etc, so please keep an eye on SwiftMR's future endeavors as it continues to expand its reach!