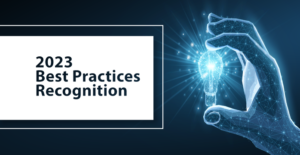 SAN ANTONIO, TX. – March 2, 2023 – Recently, Frost & Sullivan researched the artificial intelligence (AI)-powered magnetic resonance imaging (MRI) reconstruction solution industry and, based on its findings, recognizes AIRS Medical with the 2023 North American Technology Innovation Leadership Award. The company offers AI-based diagnostic tests and robotic technologies to improve the patient and healthcare provider experience. Combining its award-winning deep learning technology with traditional MRI techniques such as parallel imaging and compressed sensing, SwiftMR™ denoises and sharpens the images, thus significantly improving image quality and overall radiologist interpretation.
AIRS Medical's SwiftMR™ technology reconstructs high-quality images out of low-quality ones, including those from shorter scan times. This accelerates the MRI scanning process by up to 50%, from 30 minutes to 15 minutes. Thus, patients experience less anxiety and discomfort. At the same time, since the technology seamlessly integrates into healthcare providers' existing clinical workflows, radiographers can experience higher productivity without altering their workflow. Moreover, SwiftMR™ reduces the need for repeat scans as the patient needs to be still for only half the time.
According to Ashish Kaul, an industry analyst at Frost & Sullivan, "SwiftMR™ is FDA-approved and enhances MR image quality produced under various conditions. "And they work closely with customers during the pre-and post-purchase journey, offering support and guidance to identify and transform inefficiencies of the medical industry with data-driven healthcare capabilities."
When the technology first launched, SwiftMR™'s primary focus was on brain scans catering to large-scale hospitals. However, through experience and extensive research of market needs, AIRS Medical discovered that this technology could be even more beneficial for institutions with limited capital investment, thus accommodating smaller private clinics and imaging centers. The technology now supports widely used body parts: the brain, spine, musculoskeletal, pelvis, prostate, rectum, and bladder.
SwiftMR™ provides image reconstruction for more efficient, accurate readings, consequently delivering better MRI services to the community and tackling its backlog. The value of SwiftMR™ potentially drives up the expected annual revenue of each scanner by $900,000, a groundbreaking leap from the industry standard. The SwiftMR™ technology enables an average scan time reduction of 40%, with a 30% increase in scan productivity.
"AIRS Medical stands out from competitors based on its commitment to innovation and creativity while achieving commercial success," added Azza Fazar, best practices research analyst at Frost & Sullivan. Its impressive growth momentum and trajectory are a testament to its technological innovation leadership, earning its clients' trust and loyalty and enabling it to capture market share."
Each year, Frost & Sullivan presents the Technology Innovation Leadership Award to the company that has demonstrated uniqueness in developing and leveraging new technologies that deliver significant customer value.
Frost & Sullivan Best Practices awards recognize companies in various regional and global markets for demonstrating outstanding achievement and superior performance in leadership, technological innovation, customer service, and strategic product development. Industry analysts compare market participants and measure performance through in-depth interviews, analyses, and extensive secondary research to identify best practices in the indust